What do you do during the summer?
Most people take the time to relax and not worry about anything for awhile, but I actually do my best to travel as much as I can - especially if I haven't traveled much lately (which I haven't!). I've been absolutely ITCHING to go somewhere for awhile now, and, of course, I have a few specific places in mind.
What's there not to love?! My best friend and I have been talking about going to NZ for awhile now, but we just haven't stopped to actually buy the tickets and decide when we want to go. And the main reason I want to go? BUNGEE JUMPING. NZ has tons of places to go bungee jumping and that's definitely on my bucket list (along with sky diving!).
I have wanted to go to Venice ever since I was a kid. I don't know what it is, but I can just picture myself sitting in a gondola entranced by the beauty of the city around me and it makes me want to buy the plane ticket RIGHT NOW. I imagine it as peaceful. And I feel like if I ever did visit, I'd want to stay there forever.
Barcelona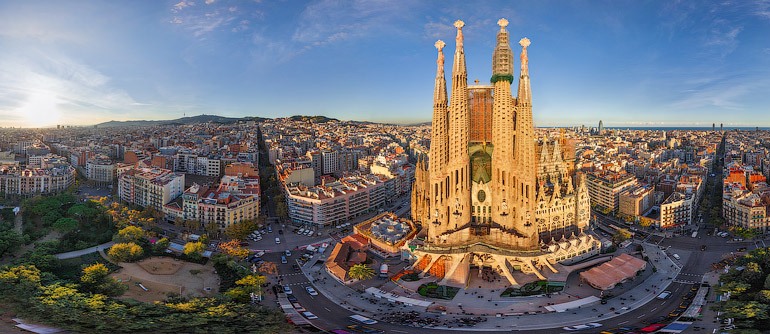 [source]
This is honestly just kind of because I took through Spanish 4 while in college (I can say that now...what?) and I would love to see if it even helped at all. On top of that, I think the culture would be really interesting to immerse myself in, even if just for a little while. The best way to learn is definitely through experience, so maybe I could actually learn a little more conversational Spanish if I went for a few weeks. :)
Dublin
[source]
I've actually been to Dublin before. I have a whole album dedicated to Dublin entitled "We sleep in gardens...in Ireland," because we did, in fact, sleep in a garden while waiting for a museum to open. While in that garden, we also talked to a guy who was watching a bunch of kids and letting them play/climb on statues/generally be little boys and get their energy out. He thought I was Polish based on my hair and skin tone. I thought it was awesome. Dublin was fantastic. We were only there for four days (maybe three...?) though, so I'd love to go back again and explore even more.
Edinburgh
[source]
I think this one is MAJORLY self-explanatory at this point, but I had to add it anyway. I will always take an opportunity to go back to Edinburgh. Any time, any day. I spent a month in Edinburgh and still never even discovered half of what the city offers. My dream isn't even to visit, actually, it's to live there. For at least a year. But a visit would be nice too. :)
What about you? If you could go anywhere on vacation, where would you go?
Happy Saturday! :)